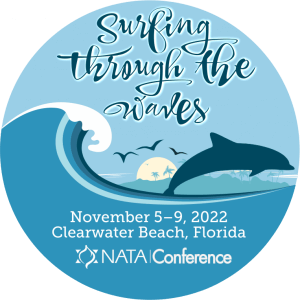 NATA's 2022 Annual Conference promises to be a valuable experience for all! We are excited to bring you dynamic Keynote Speakers, interactive workshops with practical tools and tips for implementation, and meaningful connections with peers from around North America and beyond.
This year's theme, Surfing Through the Waves, will focus on three areas for supporting NATA members to lead your communities with excellence:
Breaking Barriers - Focusing on diversity, equity and inclusion, and addressing challenges to creating welcoming and inclusive environments for all people.
Navigating a Changing World - Addressing the major societal, technological, and workplace culture shifts that have emerged in the past few years.
Seas the Day! - Bringing us back to the "why" of what we do in our everyday lives at work, at home, and in our community, creating collaborative and supportive work environments, and maintaining a healthy work/life balance.
All NATA members are eligible to attend the conference. If you are not a member and would like more information, please peruse our Membership Information!
Visit the Program page for a full schedule of conference sessions, events, and special activities.
Visit the Highlights page for descriptions of the special events and activities we have planned for you.
Registration after September 15, 2022
$950 Regular & Associate Members
$1050 All Others
Included with your registration fee:
Full conference attendance - all sessions
Breakfast, lunch, and snacks on Sunday, Monday, and Tuesday
Opening Banquet on Saturday Night
Dinner Cruise on Sunday Night
Closing Banquet on Tuesday Night
Free Professional Head Shot sitting and photos
SWAG Bag!
NOT Included with registration fee:
Shabbat Dinner
NATA Night Out Dinner
Hotel Room
Travel Expenses