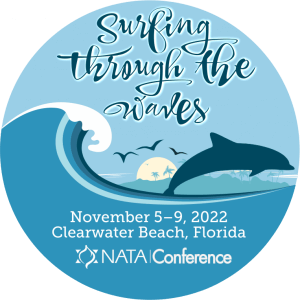 Clearwater Beach, Florida
There is always a lot to consider when deciding whether to attend a conference and how to plan for your trip. We hope many of your questions will be answered here. If not, do not hesitate to reach out to the NATA office for more information.
How Do I Reserve a Hotel Room?
Hotel rooms at the Sheraton Sand Key Resort are available at the group discount rate of $169+ taxes per night.
Conference nights are Saturday through Tuesday (departing on Wednesday). Additional room nights are available at the discounted rate from 11/3/2022 through 11/9/2022 if you'd like to extend your stay.
Other perks for attendees include:
Free parking
No resort fee
Private beach
Ocean view gym
Free trolley to explore Clearwater
What are the Travel Logistics?
To get to Clearwater Beach, most travelers fly into Tampa International Airport.
There is no hotel shuttle available, so you'll need to arrange to get from the airport to the hotel, which is about a 45-minute drive. The easiest options are Uber or Lyft. You can find additional transportation resources on the Visit St Pete/Clearwater website.
The St. Pete-Clearwater airport is serviced by a couple of small airlines if that is of interest.
Plan to arrive by early afternoon on Saturday, November 5th and depart on Wednesday, November 9th to experience the full schedule of conference events and activities.
We'll be at the beach but also at a professional conference. We want you to be comfortable, but not too comfortable!
We like to call this year's dress code "resort casual."
Think about colorful blouses and polo or button-down shirts (Tommy Bahama shirts are okay here). Choose khakis or linen pants. Jeans are welcome but please avoid athleisure-wear during sessions. Shoes are optional for events on the beach.
Be prepared for the opening night Beach Party Color Wars, by bringing a white or cream color top.
For the Closing Banquet, you'll want to go more for a business or dressier casual look. Feel free to leave the ties and fancy dresses at home but spruce up a bit to honor the installation ceremony of our new President.
All meals are included with conference registration except for Monday's NATA Night Out dinner. 
Meals will be kosher-style with vegetarian options available. You will be able to indicate any food allergies or other restrictions upon registration.
What is the Schedule of Events?
The event begins on Saturday afternoon with a first-timer's reception and opening banquet and wraps up on Tuesday evening with a closing banquet where we will install our new President.
A preliminary schedule of events will be published when registration opens. This page will be updated on a regular basis to provide the most up to date information as the conference planning team continues to confirm presenters and finalize the event details.
You are welcome to bring partners, friends, or other guests along to enjoy the beach! 
Only paid conference registrants may attend the conference educational programming and meals during the day.
Guests may attend off-site events by purchasing a ticket for each event at least 2 weeks prior to the start of the conference but may not partake in lunches or breakfasts provided for conference attendees.
Am I Eligible for a Scholarship?
Scholarships for conference registration fees and hotel costs are available for NATA members attending for the 1st time or within the first 3 years of membership. 
To apply, complete and submit the Scholarship Request form before registering for the conference. The deadline for scholarship applications is August 20, 2022.
The scholarship committee will review all applications and advise applicants of its decision by August 30, 2022. If awarded, follow up instructions will be provided for registering for the event and reserving a room.
What is the Cancellation Policy?
All conference fees must be paid upon registration for the event unless a scholarship is requested.
Any registration that remains unpaid 7 calendar days prior to the scheduled event will be cancelled.
Participants who show up to an event for which their registration was cancelled for nonpayment, may pay for the event and participate only if there is still room available. 
No discounts will apply to registrations made, but not paid, by the early registration discount deadline. 
If you are unable to attend an event you have registered and paid for in advance, there are a few options:
Substitutions
Registration may be transferred to another person within the same organization for a $25 change fee.
Written request (via email to nataoffice@natanet.org) for transfer of registration must be made at least 7 business days or more prior to the event.
Refunds
Cancellations received on or before the date 30 calendar days prior to the first day of the conference, will be refunded in full minus a $50.00 cancellation fee.
A cancellation fee of 50% of registration costs will be applied for cancellations received between 29 to 7 calendar days before the conference.
No refund will be issued for cancellations received less than 7 calendar days before the first day of the conference unless in accordance with the Emergency Policy below.
All cancellation requests must be sent in writing via e-mail to nataoffice@natanet.org. Telephone requests will not be honored. Please email cancellations, if possible, and expect confirmation within two days. 
Cancellation by NATA
NATA is not responsible for last minute problems beyond our control such as weather or road conditions. No refunds will be given in these situations.
Emergency Illness or Death of Registrant or Immediate Family Member
Refunds may be granted if an attendee is unable to attend the conference due to a family death, illness, or other extraordinary circumstance. In such a circumstance, NATA must be contacted by phone or e-mail. If initial notification is by phone, it must be followed up in writing. Refunds will still be subject to a $50 processing fee.
Emergency refund requests must be submitted within 1 week (7 calendar days) of the end of the conference. 
Emergency refund requests received more than 1 week after the end of the conference will not be considered.
Special requests for a refund must be approved by the Executive Director.
Please contact NATA at 800-966-6282 or nataoffice@natanet.org with any questions about these refund and cancellation policies.
What Covid-19 protocols will be followed?
The conference planning committee and NATA leadership continue to work together to make decisions on implementation of current CDC recommendations to protect the health and safety of all attendees.
To that end, mask-wearing will be encouraged but not required during our indoor activities.
Additionally, all meals onsite at the Sheraton (All breakfasts and lunches) will be offered outside with shade from large tents. Attendees will be served buffet meals with the ocean breeze flowing through.
We will continue to monitor Covid-19 as the conference approaches and keep all attendees and sponsors informed of any adjustments, protocols or changes.
Did You Know the Conference is on Election Day?! Yes, it's true. The last day of the 2022 conference is also national election day.
We don't want you to miss your chance to perform your civic duty. Click here to find information about how to vote early for your state.
Remember to cast your ballot early!
Please read this message from NATA President, Jack Feldman, in response to the question from some members concerned about supporting Florida's economy in light of the current political climate:
---
Friends,
In the coming weeks, you will receive information about registering for the 2022 NATA Conference in Clearwater Beach, Florida. I want to thank in advance Sarah Gotlieb and Brett Shankman who are co-chairing what will be an amazing few days of educational and engagement opportunities for our entire community.
We understand how the news coming out of Florida, seemingly every day, can make people hesitant to invest money into that state's economy. Two years ago, when we first started making plans to hold the conference in Clearwater, we could not have anticipated the new legislation that Florida has adopted in recent months. Legislation that, quite clearly, is in stark contrast to the inclusivity and diversity that NATA stands for.
As members of NATA, we hold ourselves to the highest standards of personal and professional integrity, moral conscience, and social responsibility. In fact, our Code of Ethics states that NATA members "must understand and appreciate diversity, including honoring and respecting differences in people and their beliefs."
On behalf of NATA leadership, I want to assure all our members that our decision to move forward with the 2022 Conference in Florida is not, in any way, meant to signify support of, or alignment with that state's legislative decisions. There are simply too many commitments already in place for it to be financially or logistically feasible to move the conference to a new location. To those most personally affected by the Florida legislature's attacks on diversity, education, women's rights and inclusion, please know that you have our full support in whatever way we may provide it.
I look forward to seeing you in November.
Jack