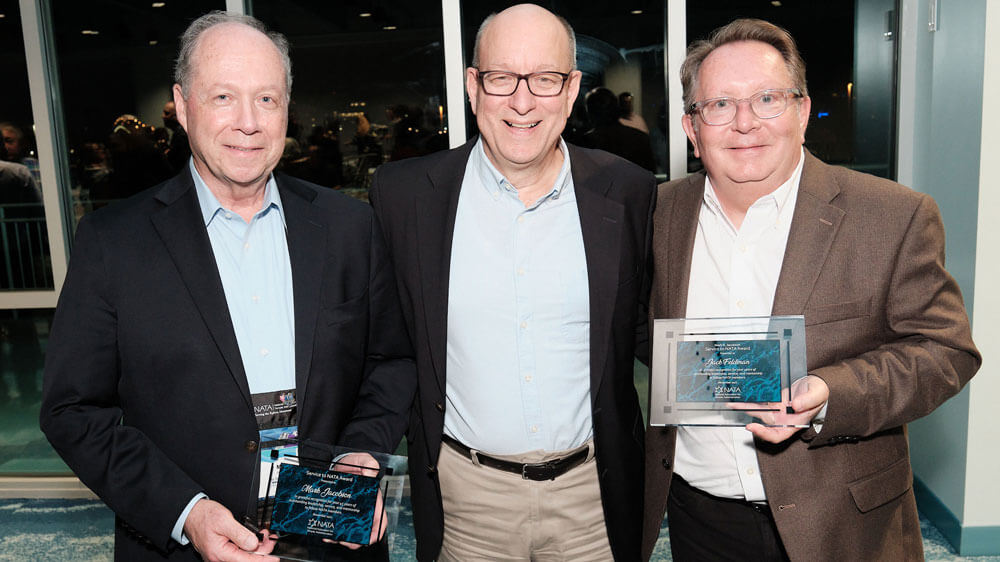 The job of a synagogue executive director or administrator has a unique set of joys and challenges. While all our members deserve praise and recognition for all they do on a daily basis, NATA also seeks to recognize those members whose commitment and hard work goes above and beyond.
Each year at the Annual Conference, we recognize members for exceptional commitment to NATA and to the community. Nominations are accepted from peers and community members and the Awards Committee reviews the nominations to select the recipients.
Myron E. Schoen
Service to Community Award
The Service to Community Award is presented to a NATA Member who has made outstanding contributions to the broader community through service & engagement. Their contribution in cultural, educational, social action, health and interfaith arenas contribute to a more beautiful, well-rounded community for all.
Mark R. Jacobson
Service to NATA Award
The Service to NATA Award is presented to a NATA member who has contributed greatly to the development and success of the organization through outstanding leadership, service and mentorship to fellow colleagues. This award recognizes the highest standard of teamwork and excellence to grow the mission and vision of NATA.
In 2022, this award was renamed to honor Mark Jacobson for his 45 years of NATA membership, leadership, and service.
Service to Community Award
| | |
| --- | --- |
| 2021 | Kathy Golderman |
| 2020 | Susan Gold |
| 2019 | Debra Vinocur |
| 2018 | Ellen Bernstein |
| 2017 | Daniel Glassman |
| 2016 | Larry Solomon |
| 2015 | Jeanne Adler, FTA |
| 2014 | Deborah Naish |
|   | Steve Lewis |
| 2013 | Mark Weisstuch, FTA |
|   | Larry Glickman, FTA |
| 2012 | Alan Halpern |
| 2011 | Edward Alpert, FTA |
|   | Bekki Harris Kaplan |
| 2010 | Loree Resnik, FTA |
| 2009 | Serane Blatt, FTA |
|   | Susie Amster, FTA |
| 2008 | Fern Kamen, FTA |
|   | Janet Bronitsky, FTA |
| 2007 | Susie Amster, FTA |
|   | Janice Rosenblatt, FTA |
|   | Elaine Tenenbaum |
| 2006 | Louis Geiger |
|   | Mark Rubinstein |
|   | Ellen Rae Shalett |
|   | Steve Allen |
| 2005 | Roy H. Feinberg |
|   | Alan M. Samuels, FTA |
| 2004 | Gary Simms, FTA |
|   | Eli Montague, FTA |
| 2003 | Maurice Ross |
|   | Alan Hochberg |
|   | Gail Kroop, FTA |
| 2002 | Leslie Sporn |
|   | Debbie Coutant |
| 2000 | Marlyne Freedman |
|   | Monika Hamburger |
|   | Judith Seiff |
| 1999 | Terry Kraus, FTA |
|   | Vicki MacKay |
| 1998 | Marcia Goldman |
|   | Doris Markoff |
| 1997 | Mark W. Greenstein |
|   | Marjorie Sweetser-Brill |
| 1996 |  Jeffrey Herzog, FTA |
| 1995 | Mark R. Jacobson, FTA |
|   | Arnold Richmond |
| 1994 | Terry Kraus, FTA |
| 1993 | Marvin S. Walts |
|   | William S. Gibberman |
| 1989 | Steve Breuer |
|   | Ralph Birnberg |
| 1988 | Mel Olsberg |
|   | Vig Kavalar |
| | |
| --- | --- |
| 2022 | Mark Jacobson |
|   | Jack Feldman, FTA |
| 2021 | Aliza Goland, FTA |
|   | Michael Liepman |
| 2020 | Gennifer Kelly |
| 2019 | Abigail Goldberg Spiegel, FTA |
| 2018 | Ellen Franklin, FTA |
| 2017 | Missy Johnson |
| 2016 | Janice Rosenblatt, FTA |
| 2015 | David Lamden, FTA |
| 2014 | Adam Inlander |
| | Kathy Small, NATA |
| 2013 | Sydney Baer |
| 2012 | Joe Elbaum |
| 2011 | Jeff Herzog, FTA |
|   | Nancy Schneider |
| 2010 | Edward Alpert, FTA |
| 2009 | Nancy Schneider |
|   | Dr. Marc Swatez, FTA |
| 2008 | Brian Rissinger |
| 2007 | Jeffrey S. Herzog, FTA |
|   | Carolyn Shane |
| 2004 | Gary S. Cohn, FTA |
| 2003 | Liz Hirsch, FTA |
| 2002 | Serane Blatt, FTA |
| 2001 | Fern Kamen, FTA |
|   | Livia Thompson, FTA |
| 2000 | Warren Lieberman, FTA |
|   | Jill Randell |
| 1999 | Keith Kraft, FTA |
| 1998 | Eli Montague, FTA |
| 1997 | Stephen E. Breuer |
| 1996 | Joseph Boston, FTA |
|   | Norman Fogel |
| 1995 | William Ferstenfeld, FTA |
| 1994 | Mark Weisstuch, FTA |
| 1993 | Shirley H. Chernela, FTA |
|   | Julian Feldman, FTA |
|   | Henry Fruhauf, FTA |
|   | Robert Mills |
| | |
| --- | --- |
| 2000 | Janice Rosenblatt, FTA |