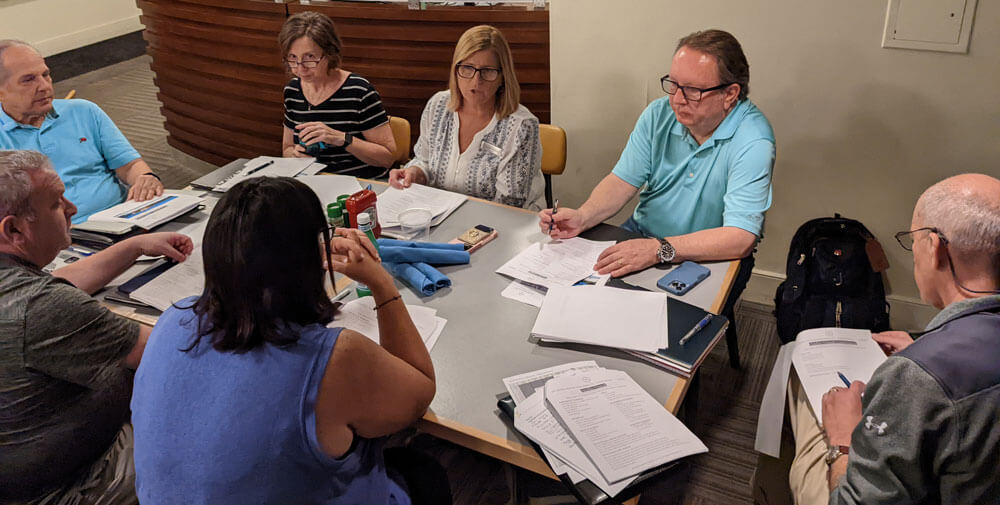 The efficacy of NATA's programs and services relies upon the dedication of our members. 
Volunteer-led committees ensure that NATA's priorities and activities meet the needs of our membership; and provide high-quality programs, strong peer support, and ample opportunities for fellowship and learning while adapting to the ever-changing landscape of our profession. 
Members are encouraged to get engaged and to support NATA and its members by sharing your strengths and experiences with others. All committees work in close partnership with NATA's Executive Director.
The Communications Committee evaluates and coordinates the outreach efforts of NATA. This work includes creating an annual communication plan, maintaining the NATA website, and ensuring that the organization uses all available platforms to share critical information, updates, and opportunities for our members. 
Chair: David Lamden, FTA | Congregation Emanu El, Houston, TX
The NATA Annual Conference is a highlight for many of our members and requires the dedication of many individuals. The Conference Committee is divided into many subgroups tasked with coordinating this dynamic and expansive week-long event. Areas of interest include:
Education
Off-site Local Activities & Coordination
Member Engagement
Communications and Marketing
Sponsorship Development
Tribute Ad Solicitations
Worship / Spiritual Activities
First-Time Attendee Experience
2023 Co-Chairs: 
Karen Wisialowski | Peninsula Temple Sholom, Burlingame, CA
Peter Pishko | Temple Solel, Paradise Valley, AZ
The Ethics Committee is responsible for addressing, investigating, and/or adjudicating all ethics complaints brough against members or employees of NATA. The committee may also recommend ethics education and revisions to NATA's Ethics Code.
Chair: Jack Feldman, FTA | Temple Sinai - Sandy Springs, GA
The NATA Finance Committee is responsible for overseeing the financial health of the organization, developing the annual operating budget in collaboration with the Executive Director, and recommending sound fiscal policies to the Board of Directors.
Sub-Committees: Annual Audit, Investments
Chair: Michael Kancher | Congregation of Reform Judaism, Orlando, FL
The Governance Committee examines how the board is functioning and whether the board is fulfilling its responsibilities and living up to the objectives and aspirations set for itself and the organization. Responsibilities include:
Develop recommended policies and guidelines with respect to all matters relating to Board governance for the review and approval by the Board. 
Oversee orientation, education, and self-assessment programs for Directors.
Support the work of the Nominating and Leadership Development Committees.
Chair: Anita Aronoff | Temple Israel of New Rochelle
The Leadership Development Committee's mission is to enhance interest in NATA as a valuable resource and support network among our members; to encourage and facilitate participation in leadership roles on committees; and to identify, develop and support NATA leaders to move into Board and Officer positions.
Chair: Brian Rissinger | Reform Congregation Keneseth Israel, Elkins Park, PA
The Membership Engagement Committee is dedicated to strengthening connections between NATA and our members and with members to one another. This is accomplished by focusing on three specific areas: 
Recruitment
Connection
Support
The Committee provides on-boarding for new NATA members, holds monthly Open Forum Zoom calls, coordinates a peer-to-peer mentorship program, and offers personal support for any member who needs or wants it.
Sub-Committees: Member-to-Member Support, Mentorship
Chair: Steve Winer | Congregation B'nai Shalom, Westborough, MA
The Nominating Committee, chaired by the Immediate Past President, is responsible for identifying and recruiting new members for the Board of Directors, and developing a slate of officers for approval by our members at the annual meeting each year.
Chair: Jack Feldman, FTA | Temple Sinai, Sandy Springs, GA
The Professional Development Committee focuses on providing NATA members with opportunities to study the theory and practices of effective synagogue management and to promote high standards of competency and professionalism. This includes seeking feedback from members about topics of interest, planning for regular educational webinars, planning, and facilitating the bi-annual Institute, and supporting members to work towards achieving Senior Member status and, ultimately, becoming a Fellow in Temple Administration.
Sub-committees: Online Learning, Fellow of Temple Administration Certification, NATA Institute
Chair: Danny Glassman | Temple Jeremiah, Northfield, IL